The home sits upon the bank of a sparkling Spokane River. The sun dances across rippling currents as I pull up and park out front. This is the home of a writer, an English major, granddaughter of a poet and a health and nutrition expert. A woman passionate about life. This is the home of Dr. Ann Louise Gittleman.
"I love your photographer," she says, speaking of Benjamin Powell, when I hand her the latest issue of Nspire Magazine. It is this same openness and sincerity that warms our entire conversation.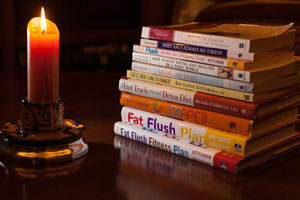 An award winning author and nutritional visionary, Ann Louise has written more than 30 books, including New York Times bestsellers Before The Change and The Fat Flush Plan . My intent in meeting with her—I think—is to discuss how the artistic side of writing has influenced her work. However, I come to understand that it is not the writing, not the art, that inspires her. It's her passion for people and for life that motivates her.
Ann Louise says little about herself except to reference others, special influences, those she respects and those she loves. She speaks fondly of mutual acquaintances, and her hospitality is genuine. She's a people person in the truest sense of the word, and because of that she's made it her mission to share with people everything she possibly can about living a healthy lifestyle.
It was a moment in 1985, which for lack of deeper explanation she describes as a "spiritual experience," that Ann Louise recognized her path. "I just knew I had a message," she explains. "I want to touch people's lives."
Ann Louise is not about pushing her beliefs, no matter what she's discovered through her research. She believes in "walking your own truth," in "tending to your soul." Her books are merely her way of providing opportunities for people to do just that. To find their own truth. And, I believe, simply the thought that her books have helped to improve the lives of her readers, perhaps might improve yours, will keep her researching and writing for years to come.
By: Toby Reynolds/Photography by: Benjamin Powell