I had the good fortune of getting to know some inspiring homeowners for this edition's architectural series. Each had undertaken major projects to build their dream homes on North Idaho's glistening lakes. Expertly crafted and beautifully designed, these homes were considerable investments, no question. But it is clear the real investment is not in the home itself. The real investment is in family.
It's why Steve and Cinthia built a grand lodge on a secluded lake in Harrison, why Rick and Robyn transformed an aging cabin into a six-bedroom retreat on Lake Pend Oreille and why Pat and Sandy joined two penthouse condos to create 12,000 square feet of spectacular space on Lake Coeur d'Alene.
Family. Friends. Good times and great memories. These, they all agree, are the things that matter.
---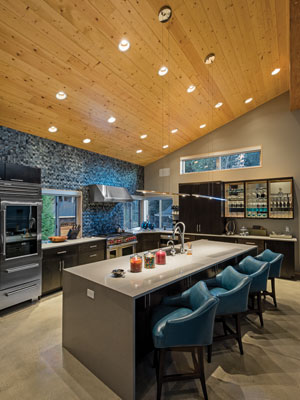 Robyn and Rick Dillon took a boat ride around Lake Pend Oreille on their 30th wedding anniversary five years ago. They admired the scenery and the beautiful homes that line the shoreline of Idaho's largest and deepest lake.
But it was a 1957 cabin on the north end that grabbed Robyn's attention. The home, she thought, would make a great vacation spot for the family. Rick agreed. So they bought it.
"I absolutely loved the location," Robyn says. "I thought we'd do a little remodel. But we ended up tearing the whole thing down, which was not my intention."
The cabin sat on a floodplain and couldn't be insured, leaving the couple no choice but to rebuild. For the Dillons, it was an opportunity. It gave them a chance to build a place for their friends and family to enjoy.
The couple built a six-bedroom, three-story home to accommodate guests. And to make sure their parents could enjoy all that the lake house offered, they added an elevator.
"At the time both of our parents needed help going up and down stairs," Robyn said.
But the Dillons didn't just put in an elevator. They made it a major design element and one of the most talked about features of their vacation home, second only to the jaw-dropping view of the lake. The elevator stands prominently in the entryway.
"I wanted something different," Robyn said. "Not just an elevator in the corner."
The pneumatic elevator looks and works like the tubes at the bank drive-through.
"It basically pushes the elevator up with air pressure and lets it down by releasing the air pressure," said Tim Boden of Boden Mountain Architecture, who designed the home. "It is designed to be energy efficient because no energy is required to go down."
Unlike traditional elevators, this one didn't need a large mechanical area, so it could be located anywhere in the house. And the steel and glass tube fits the contemporary styling of the home.
"At the time, I think we were the only ones in Idaho with an elevator like this," Robyn says. "We had so much fun creating this house."
By: Kristina Lyman/Photography by: Joel Riner