Settling in for the night under a full moon and the Perseids Meteor Shower at Harrison Lake in the Selkirk Mountains of North Idaho.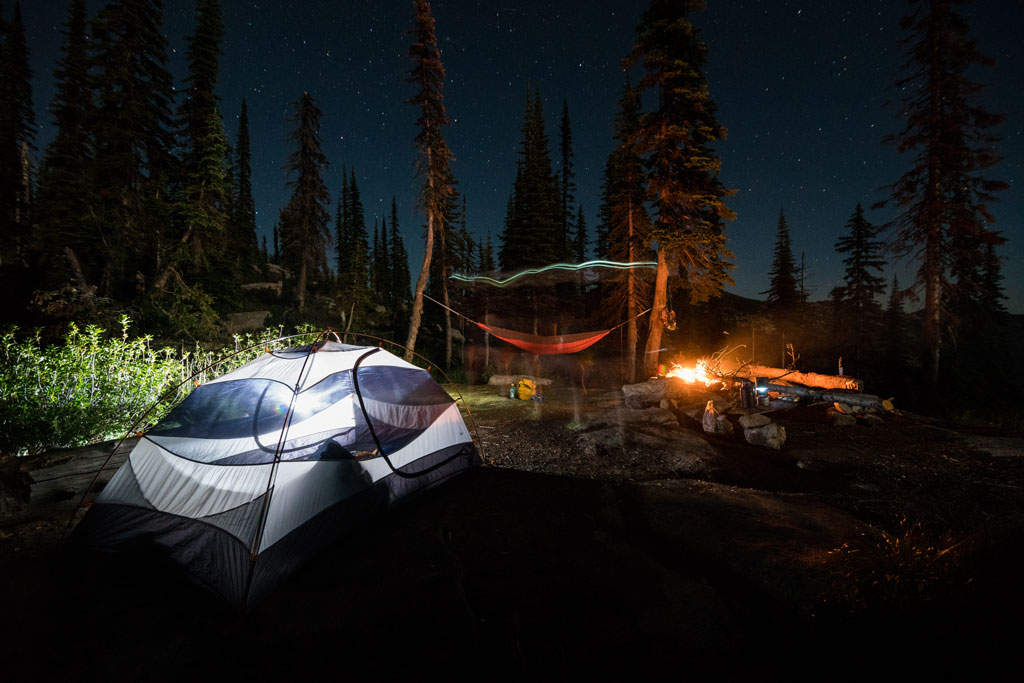 Photographer Chris Celentano
Harrison Lake trail is about 2.75 miles and can be challenging for an intermediate hiker. It is a continuous climb above 4500′ in elevation from the bottom of the Upper Pack River Valley all the way up to the lake at 6200′. It offers hikers incredible views of the central Selkirk Crest and the Upper Pack River Valley.
This is a good introduction hike to the Selkirks, which can be brutal. It provides a great taste of what to expect in terms of difficulty and beauty in the region. Bring water and good hiking shoes or boots. It is recommended you bring a rain shell at the very minimum as weather changes drastically and violently in these mountains. A medium clearance vehicle is also recommended; the road turns to dirt and there are multiple water bars to negotiate.
After the hike, stop in Sandpoint at Eichardt' Pub and Coffee House, Mcduff's Brewing Company, or Laughing Dog Brewing for fantastic food and drinks.
Directions:
From Coeur d'Alene, head North on US 95 to Sandpoint. Continue through Sandpoint on US 95 another 10 miles. Turn Left onto the Upper Pack River Rd at Samuels Store/Conoco Station (Samuels Store has some of the best breakfast burritos on the planet!). Continue 20 miles on the Upper Pack River Rd until the Harrison Lake Trailhead is reached. There is a USFS bathroom at the parking area. The trailhead is about 15 yards down the road from the bathroom.