Chef Colomba Aguilar from Cafe Carambola provides her take on a classic Mexican Style Black Bean Soup. Chef Colomba is a first generation Mexican American. She opened Cafe Carambola in 2005 to further diversify the Coeur d'Alene dining experience. Cordon Bleu certified, she has also been teaching cooking classes for the past 10 years. She chose this recipe because it showcases the bold, bright and fresh flavors of her Mexican heritage.
INGREDIENTS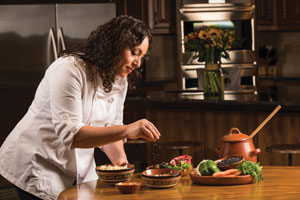 » 2 tbsp avocado or vegetable oil
» 1 white onion, chopped
» 1 clove garlic, minced
» 1/4 cup poblano pepper, chopped
» 1 carrot, chopped
» 1 14-oz can fi re roasted tomatoes
» 6 cups black beans
» 3 cups chicken broth
» 1 cup fresh or frozen corn kernels
» 1/2 tsp ground cumin
» 2 whole allspice berries
» 2 bay leaves
» 1/2 tsp dried Mexican oregano
» sea salt to taste
» 2 tbsp jalapeño vinegar (or to taste)*
» serves 6
GARNISHES
» 1 cup crumbled chicharrones**
» 1 cup crumbled queso fresco
» 1 avocado, peeled and diced
» ó cup pomegranate arils
» 2 tbsp minced fresh cilantro
METHOD
Heat a large, heavy pot over medium heat. Add the oil just until it smokes. Then, immediately add the onion and cook until softened, about 5 minutes. Add the garlic and cook another minute. Then, add the poblano pepper and the carrot. Cook until the vegetables are softened, another 5 to 7 minutes. Add the cumin, allspice, bay leaves and oregano and cook until fragrant before adding the tomato, beans and the chicken broth. Bring the mixture to a boil. Transfer the mixture to a blender and puree until very smooth.
Return the soup to the pot and bring to a simmer. Add the corn kernels and season with salt. Add 2 tbsp of jalapeño vinegar, or as much as desired to brighten the soup. Add a bit more broth if necessary to make the soup pourable and silky. Ladle into bowls and garnish.
* I use the briny vinegar from canned La Costeña brand pickled jalapeños.
** If you prefer, you can substitute croutons for the chicharrones (pork rinds).
Photography by: Joel Riner