Chef Nick Mikkelson at Bardenay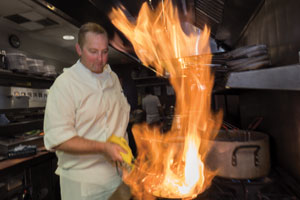 Nick Started dish washing at the age of 16. He joined Bardenay as a cook 12 years ago and has been the chef there since 2007. He chose this recipe because it is a favorite at Bardenay, both of staff and guests.
INGREDIENTS
» 2 tbsp of vegetable oil
» 1 1/2 lb chicken breast chopped (1/2 inch cubes)
» 1 cup yellow onion diced
» 4 sticks celery diced
» 2 granny smith apples quartered and sliced (roughly 1/8th of an inch)
» 2 tbsp minced garlic
» 4 cups milk
» 4 cups heavy cream
» 2 tbsp chicken base
» 1/4 lb butter
» 1/4 lb flour
» 2 cups apple juice
» 1/3 cup curry powder
» 1 tbsp kosher salt
» 1 tbsp ground black pepper
» 1 tbsp tabasco
» 1 cup brown sugar
Sautee chicken over medium heat with vegetable oil until chicken is cooked through. Add apples, celery, garlic & onion, and sautee until onions are translucent. Add butter, when melted, slowly add flour until it has thoroughly combined with no lumps. Add milk, heavy cream & apple juice. Bring to a simmer & add all remaining ingredients. Simmer for 20-30 minutes or until soup is thickened to your preference. Adjust salt, pepper, curry, and sugar levels as desired.
Photography by: Joel Riner