I had the good fortune of getting to know some inspiring homeowners for this edition's architectural series. Each had undertaken major projects to build their dream homes on North Idaho's glistening lakes. Expertly crafted and beautifully designed, these homes were considerable investments, no question. But it is clear the real investment is not in the home itself. The real investment is in family.
It's why Steve and Cinthia built a grand lodge on a secluded lake in Harrison, why Rick and Robyn transformed an aging cabin into a six-bedroom retreat on Lake Pend Oreille and why Pat and Sandy joined two penthouse condos to create 12,000 square feet of spectacular space on Lake Coeur d'Alene.
Family. Friends. Good times and great memories. These, they all agree, are the things that matter.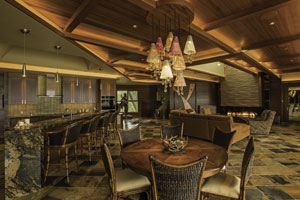 ---
Pat and Sandy Volkar love when family comes to visit. But with six children and eight grandchildren, hosting gatherings at their condo on Lake Coeur d'Alene was a bit of a challenge.
As spacious as their penthouse was at 6,000 square feet, they had only one guestroom. The other two rooms housed the master bedroom and an office. So when the penthouse next door went on the market, the Volkars didn't let an opportunity pass. They bought it and gained another 6,000 square feet.
"We have a large family and wanted the extra room," Sandy said. "We were excited when this became available."
So was architect Monte Miller. Miller and the Volkars go back nearly 10 years. He worked with the couple to renovate their original condo at The Terraces, a landmark on Lake Coeur d'Alene.
When he got the phone call about a remodel, Monte thought the Volkars wanted to update their place. "No, they were talking about expanding," he said. "It was a fun phone call."
With Monte's positivity and Sandy's enthusiasm, the two made a formidable team. It helped that they both speak the same design language. So the plan to renovate the condo was easily hatched.
But make no mistake. This was no ordinary remodel. The condo was gutted to create a blank canvas for Monte and Sandy's ideas.
"The first question was how to join the (condos)," Monte says. The wall was a solid concrete, heavily reinforced shear wall and a real effort to saw through, cut into manageable sections and haul off.
Once the proposed 9-by-9 foot opening was structurally approved and cut, the rest of the work could begin.
That work included installing a 6-foot-wide pivoting door made of wood, metal and translucent glass; a 20-foot-high fireplace that is open on three sides and covered in a wave-pattern plaster; and a suspended ceiling with drop layers of beams that are lit with LED to illuminate each ceiling bay. The original 9-foot ceiling was raised to 12 feet to allow for the suspension and a 20-foot-high skylight was added.
The condo was finished last October, so the Volkars haven't had the opportunity to spend much time in the new space. But they are looking forward to having family and friends out this summer to enjoy their expanded home on the lake.
"I loved doing this," Sandy said, admitting she misses the work. "My project's over, now what am I going to do?"
She laughs at the thought. I laugh, too, because as I gaze out at the amazing view of the lake and those comfy sofas on the balcony, I know exactly what I would do.
By: Kristina Lyman/Photography by: Joel Riner
Architect/Miller Staufer Architects