Chef Chris Schultz at Moon Time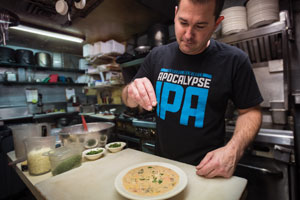 Chef Chris moved to Coeur d'Alene in 1993, and has been with Moon Time for the past 20 years. Chris chose this soup recipe because it's one of his all-time favorites. "I first made this soup when I was working at a fly fishing camp on the Nushagak River in Alaska in 1995." It was made with king salmon caught 30 minutes prior.
INGREDIENTS
» 1 cup yellow onions-diced 1/4 inch
» 1/2 cup celery-diced 1/4 inch
» 1/2 cup crimini mushrooms-chopped
» 1 tbsp fresh garlic-minced
» 1 cup corn-fresh or frozen
» 3/4 pound red potatoes-diced 1/2 inch, boiled until tender in salted water. Drained and reserved.
» 1 1/2 pounds salmon-fresh King or Sockeye skin removed and cut into 1 inch cubes.
» 1 tbsp chipotle puree – more or less to desired heat.
» 1/4 cup butter
» 2 tbsp olive oil
» 1/3 cup fl our
» 1 tbsp kosher salt
» 2 teaspoons fresh cracked pepper
» 3 cups chicken stock
» 2 cups heavy cream (half & half can be used)
» Salt and fresh cracked pepper to taste.
METHOD
Melt butter with olive oil over medium heat in a Dutch oven or medium stock pot. Add onions, celery and mushrooms and cook until tender then add garlic for 3 minutes. Add flour, stirring often, for 4 minutes. Add heated cream and chicken stock a cup at a time to stir out roux. Next add corn, potatoes, chipotle puree, salt, pepper and salmon. Bring soup up to a simmer to let the salmon cook through. Taste for salt and pepper and adjust if needed. Garnish with chopped cilantro.
Photography by: Joel Riner