I feel myself waking before the alarm sounds; it's still dark. I try to go back to sleep. Then, the alarm goes off. Any other day of the week, I would be bothered. I am not a morning person, and anyone who knows me can attest to that. But, on this particularly brisk morning in North Idaho, a rush of enthusiasm suppresses my typical morning grogginess, as I remember today is Saturday. Today, I'm in search of epic powder. This gives me the drive to arise with alacrity. I retrieve my phone from the charger, and the Saturday ritual begins. I check the surrounding resorts. Schweitzer got dumped on with seven inches of fresh powder last night; Schweitzer it is.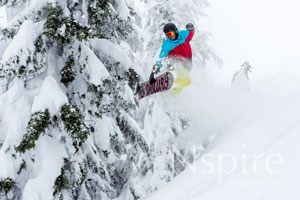 I dress quickly, toss my gear in the back on my SUV, and secure my skis in the roof rack. The fresh wax makes me smile.
It's still dark when I pull onto US 95 and head north. It's not quite an hour drive to Schweitzer Mountain from Hayden, but by the time I arrive it will be light, and I know I won't be alone. I'm trying to beat the crowd as much as possible – ski junkies will do anything for the possibility to make the first tracks. Sure enough, at the base of the mountain the traffic merges into a line of powder seekers, beginning the ascent. We are more and more eager with every switchback on the snow packed road.
The parking lot is bursting with skiers and boarders, as I march awkwardly to the lodge with my gear. We are all smiling, despite the hour; I will have many friends on the slopes today. The lodge is rustic, and warm, familiar even to first timers.
Everyone is welcome here; everyone finds refuge here. It's a place where stories of today's events will be shared with both strangers and acquaintances. It's a place where new friendships will be made, if only for a day, and a place I will long for after a chilly and exhilarating day on the slopes. I will have my own stories to share.
With gloves tucked under my arm, I fumble to attach the wire and adhesive lift ticket; It's precious to me. This is my ticket, my invitation, to mother nature's winter playground.
As I join the many others now preparing to embark, light snow sifts through the still, cold air. I adjust the buckles on my boots, certain to leave the flexibility that will allow my skis to float in the steep powder. I step onto my skis and lock into my bindings. Satisfied with the fit, I give that first swift push with my poles, and glide forward, happy once again that I had them waxed. Even the packed snow near the lodge feels light under my skis. Soon, I am gathered up in the cold security of the chair lift, and taken swiftly to the top of the softly blanketed slopes.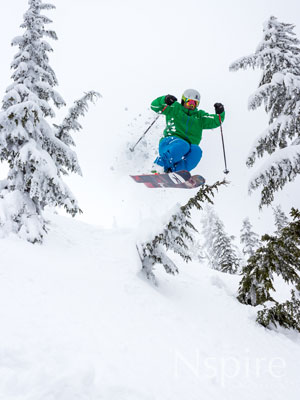 As I disembark the lift, I feel the wind curl up the mountain. I fill my lungs with cool winter air, and take in the grand view. I have been here hundreds of times, but the view never loses its power to awe me. There is nothing but blue sky overhead. The clouds gather in small pillows far below. I imagine it is still snowing at the lodge. Lake Pend Oreille is off in the distance. The peaks of the mountains stand tall, as if guarding the circumference of the massive lake. I stand the tallest of all I see. I have a sense of purpose in the vast world; I belong here. I am grateful for this moment.
I pull out my phone, and take a picture, attempting to capture the moment forever. I review the photo, but nothing can emulate fully what is in front of me. I zip the phone back into my coat pocket, and slide my gloved hands into my pole straps; I've got an old hunger to feed. The pangs are real, but it is not a hunger for food. It is a hunger for nourishment of a different kind. It's a hunger for sunlight on the snow, and the sound of freshly waxed skis gliding through waist deep powder. It's a hunger for the burning in the thighs as they battle, simultaneously, both the speed and the terrain of a challenging descent, for the exhilaration that can only be known by one who tests themselves against the mountain. The run cascades below me. Wind rushes up from below, cutting through my warm, clouds of breath. The quiet of the mountain silences my thoughts. I hesitate only a moment, then my hunger propels me forward.
As I breach the cusp of the mountain ridge and begin my descent, my heart leaps, and I smile. I've been here before; this mountain, this run. She's like an old friend, and my movements become both free and calculated, synchronized and spontaneous. Powder engulfs me; I am lost in it. A deep thrill courses through me as, for a brief moment, I'm skiing blind. Then I'm out again, trees speed by as I cut hard; right and left, right and left, leaving a snaking path through the previously untouched snow behind me. My poles plant with each turn. My weight is balanced evenly on each ski, and I feel the pressure move from the balls of my feet to my heels and back again, guiding my skis through every movement. At this speed, it's about precision. It's about falling into a natural rhythm with the mountain, becoming one with all around me. I focus on what lies ahead of me, and absorb the icy cloud below. I'm breathing heavily, and I can see my breath on my goggles with each exhale. Heat expands in my thighs and calves. Muscles are bearing the repetitive sway of my body. With determination, I twist hard, catch the edge of my skis and bear down, producing a wave of snow that cascades below as I come to a powerful stop. I stand tall with my poles bearing some of my weight. My breathing is rapid, strained at this altitude. Slowly, I scan the landscape, taking in the scene once more. Then, I take one last deep breath and lunge forward.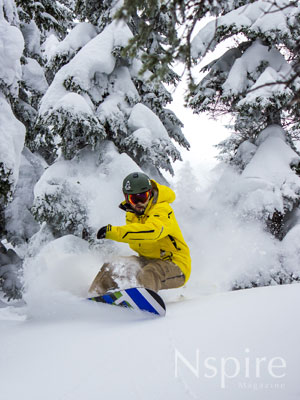 The slope takes hold, and pulls me effortlessly down its steep terrain. I am aware of nothing but the powder in my face, the motion of my body, and the strength within me. Eventually, I see other skiers come into my view, and with each glance down toward the base of the run they get larger and larger. I am gaining on them. I don't know them, but they are still considered my friends; a small army who knows that shredding waist-deep, weightless powder is the most exalted experience in skiing.
Never do I follow the same line, the same jump, or the same course. Every run is an invitation to try something new, to explore the mountain's terrain and my own capabilities. Every run beckons one more attempt. I create a stunning track through the trees; I dart and dodge and duck and rise. Elation attempts to break my concentration and cloud my focus. The light virgin powder lifts high above my head, and trails behind like an icy comet. Every moment waiting at the lifts is a welcomed rest. I scan the mountainside. The snow on this majestic mountain is shredded a bit more each time I ride the chairlift up to its peak. The once perfect sea of powder is now rippled, torn, and marked, like the carvings of some ancient society. I leave my own story today. All who look upon it will know my tale and will experience my many hours of magnificent play. I am not left untouched; the mountain has left her own marks on me as well, and I will forever be drawn back to her.
Eventually, the chair lifts come to a bitter cold stop. The sun waves goodnight, falls below the horizon, and after a story or two at the lodge, I stuff my soggy gear back into my SUV. A caravan of cars are merging and departing down the mountain. Like ants leaving a trail of pheromones for the ones behind, they travel in a line, and, if the snow is right, they'll follow it back up the mountain next weekend.
The drive home always seems longer, but I gladly replay the day's events over in my mind – each run, every ride, every thrill. I revel in my thoughts and memories as the heater blasts. At home, before I do anything else, I look at the photos from my first ascent of the day, hopeful I've captured the experience. They don't do it justice. Later, I return to my bed, weary, and wondering where I'll ski next Saturday. I drift off to sleep with thoughts of Silver Mountain, Mount Spokane, and Lookout Pass. Which will it be? Only the snow will tell.
By: Mikin Morton/Photography by: Benjamin Powell/Contributing Photography  by: Schweitzer Mt. Resort