North Idaho's #1 Magazine in print and online. Now publishing in Spokane!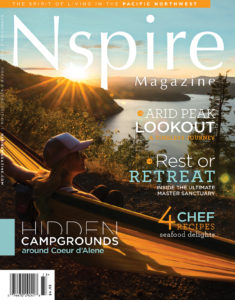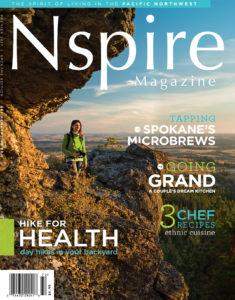 Producing quality stories professionally written, photographed, and delivered in a glossy magazine. Readers are responding with more praise then any other magazine in the region.
Here are just a few…
"I read your magazine for the first time in a surgical waiting room at KMC. I have to say, not only is it an extremely well done local magazine, but this is one of the best put together magazines I've ever seen. I've now gone through 4 others that I've found, and planned a couple day trips to local waterfalls that I didn't previously know of.  Very happy that I found this and will continue to keep reading and enjoying." – Andre W.
"I found your magazine in the doctor's office the other day.  I read some of it while I was there, but did not finish it.  So the nice receptionist said I could take one home.  It was so interesting.  My husband and I have lived in Coeur d'Alene our entire lives.  I was fascinated with the stories about some of the mountain lakes. We can hardly wait to go and see them.  I absolutely love your magazine." – Sincerely, Joyce K.
"I was leary at first… But I love it!! thank you!!" – Lorri D
"The photography is excellent work through out. The articles are so well written that I could smell the pine needles and hear the trickling water and I'm pretty sure a bug went up my nose. Seriously, final Impression was the cherry on top for me, I found it breathtaking on so many levels." – Kathy J.L.
"I snagged a copy of this magazine at lunch today, fascinated by the stimulating conversation shared with my wife while she conquered yet another level of that Candy crushing game, I needed something to interest me and I found it. This magazine is great, the articles I found interesting and well written. The photography deserves credit too! Pick up a copy." – Tim G.
"Well done publication! Phenomenal layouts and great articles. Represents this area authentically and with smart writing. I appreciate the fact you publish locally and support our community businesses and organizations." – Tami M.
"Eagerly await each new issue! Summer/Fall 2014 is the best ever; favorite articles "Take a Hike" and "Brewery Hop"; also great "Recipes from Top Chefs"! Kudos to Nspire!" – Barbara C.
"Nspire Magazine is the only magazine in on my coffee table!" – Amanda M.
Contact us for details on advertising with Nspire Magazine both in print and online.  We are currently accepting new advertisers – however space is limited so be sure to contact our team today!  Nspire offers advertising that works.  Advertising that represents you without all the noisy clutter.  Advertising for your brand that will reflect the quality and values you deserve.