Chef Bob McDaniel
Floating Green Restaurant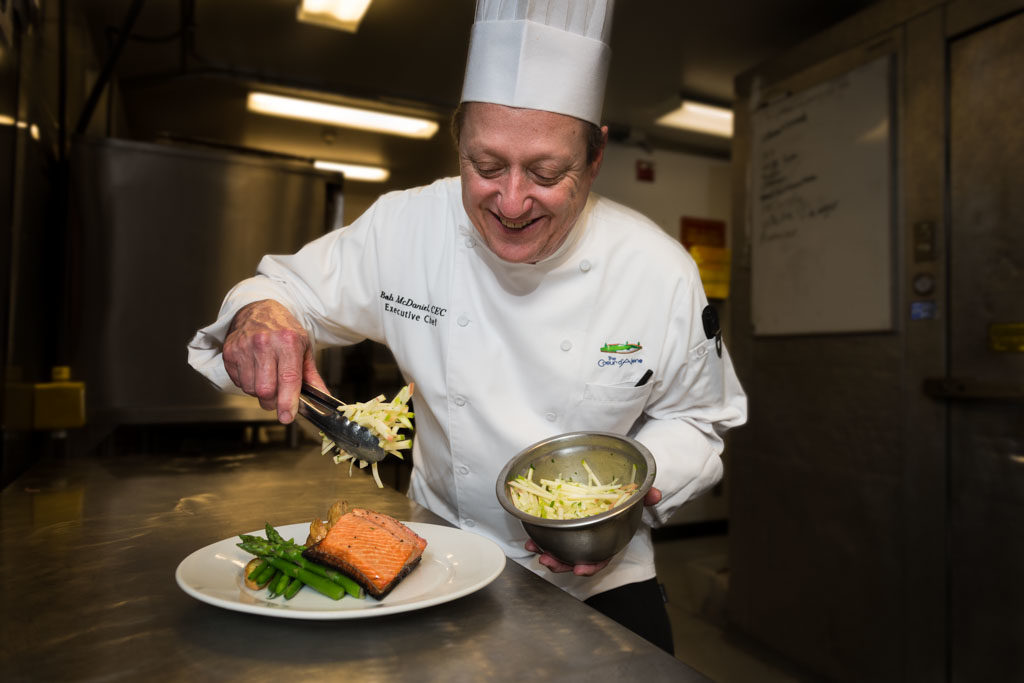 As Executive Chef and General Manager at The Floating Green Restaurant, Chef Bob McDaniel presents this recipe because, "It is a great outdoor grilled dish for a perfect Coeur d'Alene summer evening. I prefer to use fresh wild King or Sockeye Salmon. It pairs well with a Pinot Gris, a fruity Rose or even an Oregon Pinot Noir."
---
Cedar Planked Wild Salmon with Apple-Fennel Slaw
4 ea 6 oz servings wild salmon (skin on, pin bones removed)
4 ea cedar planks (unfinished and sanded)
Canola oil, lemon juice, salt and pepper for seasoning
Apple Fennel Slaw
>> 1 granny smith apple, fine julienne
>> 1/2 fennel bulb, fine julienne
>> 2 tbsp sweet onion, fine julienne
Dressing
>> 3 tbsp canola oil
>> 1/2 tsp apple cider vinegar
>> 1/2 tsp lemon juice
>> 1 tsp fennel fronds, chopped
>> 1/2 tsp sugar
>> Kosher salt to taste
>> Combine all ingredients in dressing and mix will. Toss vegetables in dressing
Fennel Butter
>> 1/2 lb butter, softened
>> 1 tbsp fennel seeds, toasted and smashed
>> 1 tbsp fennel fronds
>> 1/2 tbsp shallot, minced
>> 1 tsp lemon juice
>> 1 tbsp white wine
>> Kosher salt to taste
>> Mix all ingredients in mixer until well blended, refrigerate
Method:
Soak cedar planks in water at least 2 hours.
Place salmon on plank skin side down. Rub salmon with canola oil, lemon juice and season with salt and pepper.
Preheat BBQ grill on high for 15 minutes.
Place on the BBQ grill with the lid closed until salmon reaches 140 degrees. Watch that the planks don't catch fire. Keep a squirt bottle of water on hand for flair ups.
When done place the salmon and plank on serving plate and top with 1 oz fennel butter and 2 oz slaw.