I had the good fortune of getting to know some inspiring homeowners for this edition's architectural series. Each had undertaken major projects to build their dream homes on North Idaho's glistening lakes. Expertly crafted and beautifully designed, these homes were considerable investments, no question. But it is clear the real investment is not in the home itself. The real investment is in family.
It's why Steve and Cinthia built a grand lodge on a secluded lake in Harrison, why Rick and Robyn transformed an aging cabin into a six-bedroom retreat on Lake Pend Oreille and why Pat and Sandy joined two penthouse condos to create 12,000 square feet of spectacular space on Lake Coeur d'Alene.
Family. Friends. Good times and great memories. These, they all agree, are the things that matter.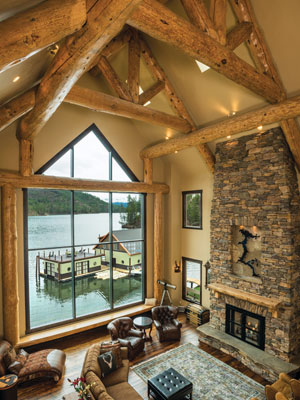 ---
The narrow gravel road had ruts so deep I held my breath over every one I failed to dodge. Carved into the hillside and hugging one of Coeur d'Alene's pristine chain lakes, this is the only road leading to Steve and Cinthia Rice's home.
I splashed and bumped along for three foggy wet miles until finally I peaked the last hill. There on the other side, near the sandy shoreline, sat the10,000-square-foot home I had come to see.
Surrounded by a boathouse, two cabins and 688 acres of storybook serenity, this lake retreat was worth the trek. I imagined Steve and Cinthia felt the same every time they ventured away from this slice of paradise.
>> Making a change
The Rices moved to the lake last fall. They were drawn here for obvious reasons. It's private and beautiful. But more than that is the promise of a slower more deliberate life.
As business owners, with intense professional lives, the Rices grew keenly aware of how fast time was moving. Nothing emphasized that more than an advertisement Steve saw for MasterCraft boats. It became the impetus for the move.
"It said 'You have 18 summers with your kids. How many do you have left?'"
With two teenage boys, the math was easy and so was the decision to leave Post Falls and slow things down in the sleepy town of Harrison. Such a move does not come without challenge, though.
"There is an element of sacrifice to living in God's country with complete peace and solitude," Cinthia says. "We get the beauty and privacy, but it's not very convenient to town. However, one lives in town and has all the conveniences but not the privacy and beauty. I guess it's what you are willing to embrace and willing to sacrifice."
>> Building a dream
Knowing the sacrifice would be huge for their sons and in many ways for themselves, the Rices made sure they had everything they needed on their property, including an offsite office so the couple could run their business at home but not in their home.
When they bought the lake property it was the site of an old dude ranch that hosted fishermen and hunters for the better part of 60 years. The Rices kept two cabins, converting one into an office, and tore down an aging lodge. Inspired by the idea of a lodge and all of its charm, they modeled their home after one.
The concept applies mainly to their greatroom, with its 32-foot pitched ceiling, floor-to-ceiling stone fireplace, massive timber trusses and three-story wall of windows that overlooks the lake. It's open and airy and feels every bit like a grand rustic lodge.
The rest of the home's dimensions were dictated by the greatroom—not because the Rices wanted a huge house. The five-bedroom, eight-bathroom home has a video room, game room, billiard room, theater room, exercise room, sports court, swim spa and sauna— all indoors.
"Knowing winters in North Idaho can be long and dark, we wanted plenty to do inside when weather demanded it," Steve says. "With this winter's early freeze, we had the additional amenity of ice skating on the lake—even a bit of snowboarding behind the ATVs."
>> Finding perfection
The Rices are still getting to know their new home and the new lifestyle they have adopted. But they know this: They have built far more than a house.
They relax and enjoy the outdoors more than ever before. They spend less money on food, entertainment and clothing. They reflect more on life and how they are spending it. And they enjoy more time — a different kind of time — with their kids.
It had been a few weeks since I visited the Rices when I received an email from Steve. Because of the cabins and boathouse on the property, the County let the Rices officially name the private road leading to their home. They chose Shangri-La Lane.
"If you're familiar with the novel, you'll understand why," Steve says.
I do. And despite all the bumps and splashes getting to this magical place on the lake, there just isn't anything more fitting.
By: Kristina Lyman/Photography by: Joel Riner