Chef Rick Reichelt
Anthony's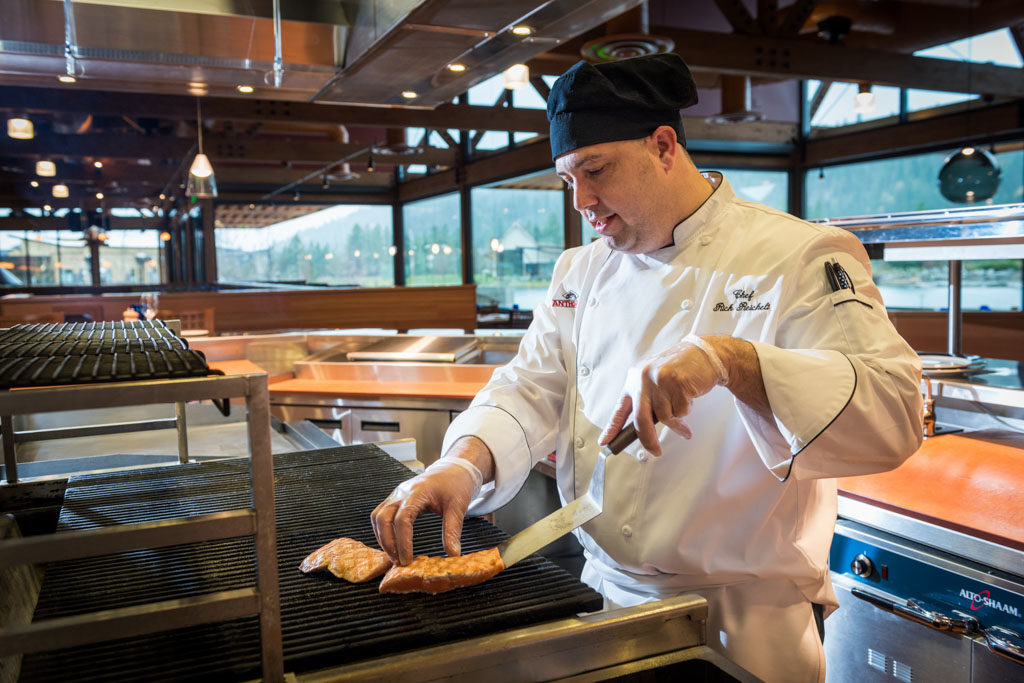 Chef Rick began his restaurant career as a dishwasher at Red Robin. He was introduced to the kitchen one night when asked to help cover for an injured chef. Rick has been a chef at Anthony's since 2000, serving folks from Des Moines to Shilshole Bay. He chose this recipe because it's a popular favorite for Anthony's patrons.
---
Silver Salmon Chargrilled with Sundried Tomato Basil Butter
Salmon Ingredients:
>> 1 1/2 – 2 lb filet fresh silver salmon
>> 2 tbsp olive oil
>> kosher salt & black pepper to taste
Sundried Tomato Basil Butter Ingredients:
>> 2 sticks, or 8 tbsp salted butter
>> 2 tbsp, thinly sliced and chopped fresh basil
>> 5 tbsp, chopped sundried tomato
Champ Potatoes Ingredients:
>> 1 1/2 lb, peeled russet potatoes
>> 3/4 – 1 stick butter
>> 4 1/2 cup milk
>> 1/3 cup, chopped fresh chives
>> salt and pepper to taste
Salmon:
Heat grill to medium-high heat. Clean and oil well. Coat salmon with oil and season with kosher salt and black pepper. Grill presentation side down (skin-side up) until salmon is about 60% finished (3-4 minutes) – you should be able to see the fat coming off the side of the filet. Flip and complete cooking until the internal temperature reaches 135 degrees (about 1-2 minutes). Take off heat and top with 2 oz. of the sundried tomato basil butter. Let sit until internal temperature reaches 145 degrees (about 2-3 minutes). Divide potatoes onto plates, place cooked salmon on top and drizzle with excess sundried tomato basil butter. Serve with your favorite seasonal vegetable (works great with grilled asparagus!).
Yield: 4 servings
Champ Potatoes:
Peel and rough chop potatoes. Steam them until fork tender, about 15-20 minutes. While hot, whip with butter until smooth then stir in salt, pepper and chopped chives. Hold warm or serve immediately.
Yield: 28 oz
Sundried Tomato and Basil Butter:
Thinly slice basil leaves and chop. Whip butter or bring butter to room temperature to soften. Stir in basil and sundried tomatoes. If there is any butter leftover, it can be stored in the refrigerator for up to 1 week or in the freezer for up to 1 month.
Yield: 1/2 lb.