The North Fork Championship of 2015
By Doug Copsey / Photography by Chris Celentano
Dane Jackson steered his RV off the highway onto a narrow dirt pullout along the Payette River, about 8 miles north of Banks, Idaho. The two young men with him crowded forward to peer eagerly out the picture-window-size windshield and their energy level instantly ramped up.
"Holy…!" one of them cried. "We're going to run that?"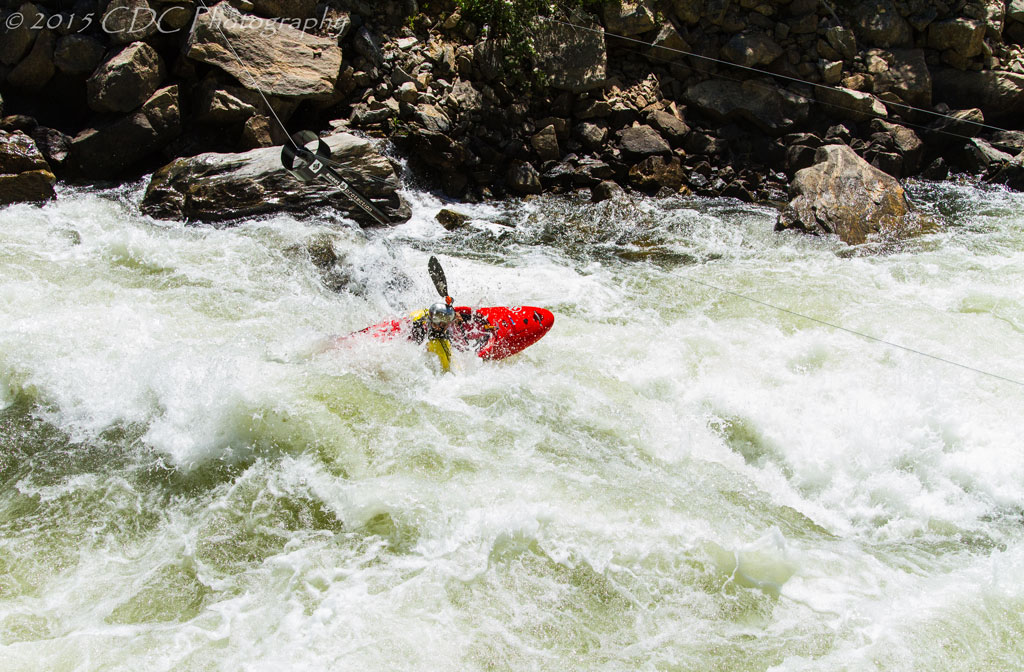 Dane just smiled. It was the first time his fellow kayakers had seen the infamous Jacob's Ladder rapid, a full quarter-mile of steep, rock-strewn, Class Five (V) whitewater that seemed to be at a perpetual full boil. But he had been here before. Still, he could feel his own adrenaline start to churn. He had to admit he would be hard-pressed to find anything like it anywhere else in the world. And he would know. The 21-year-old has spent almost his entire life roaming remote highways and back roads around the globe looking for rapids to challenge.
"By the time I was born my dad was already a full-time kayaker," says Dane. "He had just won his first World Championship, and he had already competed in the 1992 Barcelona Olympics."
When Dane was four, his parents sold their home in Washington D.C., bought an RV and hit the road. It was six years before he would live in a house again.
"We traveled full time, went wherever we wanted to go, but always based around some form of river to keep my dad kayaking. When we weren't being home-schooled, my sister and I would swim or play with little kayaks in the river. So my whole life has been centered around the sport."
By the time he was 10, the family had settled in Rock Island, Tenn., if you could call it settling.
"We're only there a couple of months a year," Dane says with a laugh. "Most of the summer we're traveling around in our RV. And in the winter we fly overseas to somewhere warm so we can keep paddling."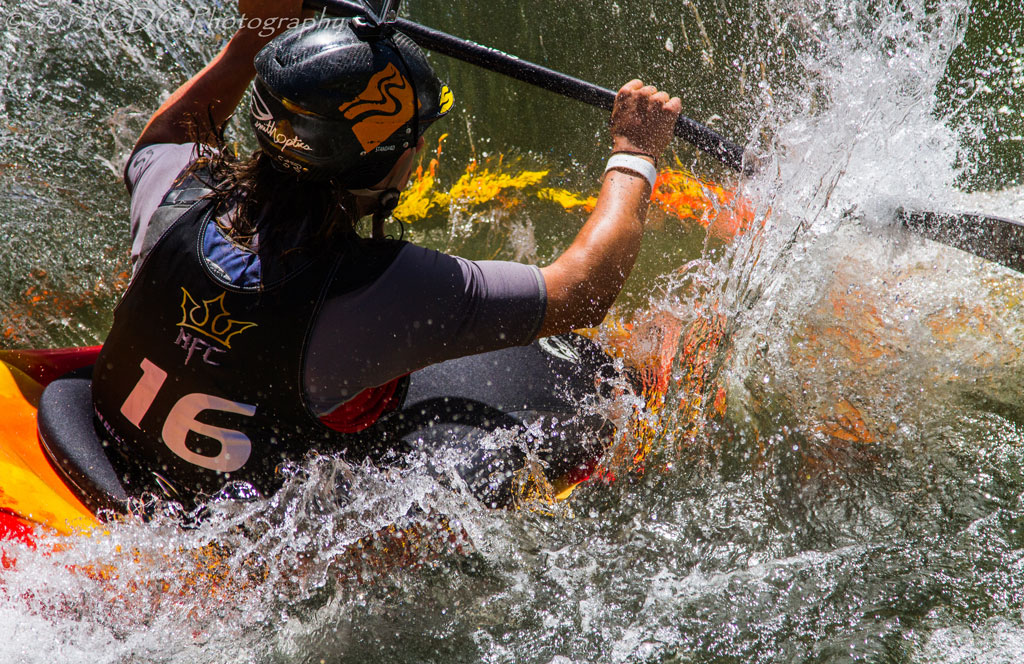 Dane and his friends are in Idaho for the fourth annual North Fork Championship, a three-day competition that culminates with a slalom event for the Elite Division on Jacob's Ladder. Dane has taken part in the competition every year, but it's really just an excuse to come back to Idaho and paddle the Payette and other wild and scenic rivers.
"The competition has always been fun," Dane enthuses. "And it's one of the best organized competitions in kayaking. But this entire area, all the way from Boise up to Cascade, has some really incredible kayaking."
The North Fork Championship brings kayakers from all over the world. Nouria Newman came all the way from France. The 23-year-old is widely acknowledged as one of the best female kayakers in the world and is the only woman invited to compete here in the Elite Division. This time of year she's normally traveling around Europe competing in slalom events as part of the French Women's Kayak Team. But when she couldn't recover fast enough from a shoulder injury last season to regain one of the three spots on the team this year, and had to settle for a spot as a reserve, she bought a plane ticket to America.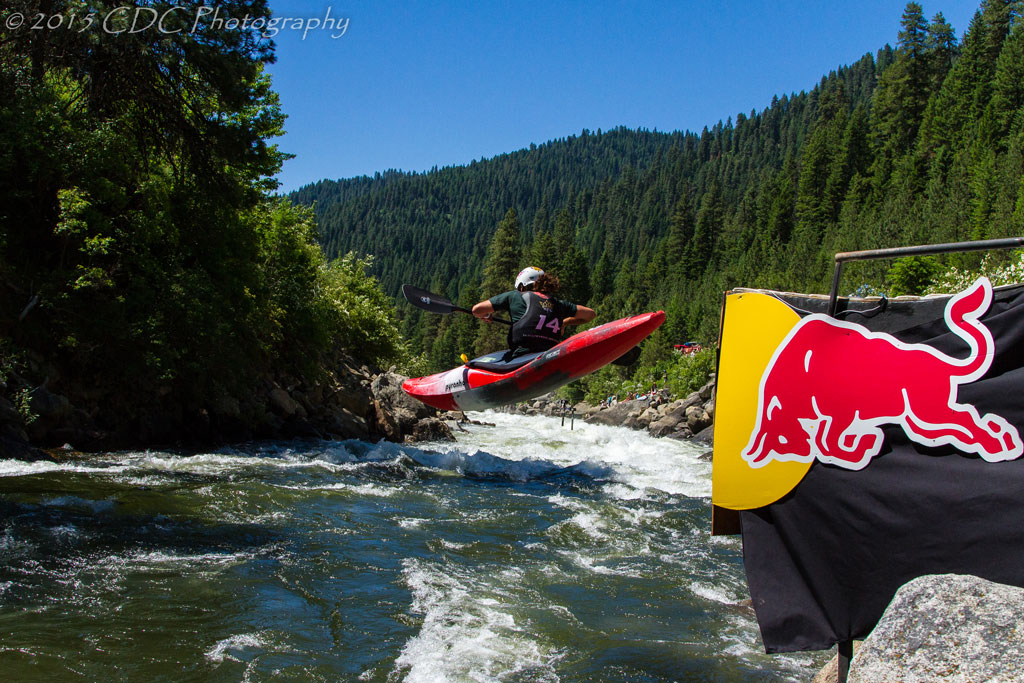 "I am exclusively in the U.S. for the North Fork Championship," she says emphatically, but then a twinkle sparks in her eyes and an impish grin turns up the corners of her mouth. "But since I had a little bit of time, I was kayaking around Oregon and British Columbia for about five weeks before I came to Idaho."
As a reserve on the French team she's only allowed to race in three World Cup competitions this season. But she is determined to regain one of those top three spots next season when they'll be making selections for her ultimate goal: the 2016 Olympics in Rio de Janiero. So she had to find another way to keep her skills sharp.
"I was like, I'm going to be on a river, I'm going to do what I love, and I'm not going to think about competition that much," Nouria says firmly.
Growing up in the tiny village of La Plagne, in the Savoie region of the French Alps, she, too, fell for kayaking at a young age.
"When I was five," Nouria recalls, "one of my dad's friends came home with this blue and yellow kayak and I thought that looked like a fun toy. My parents said no, not until I learned how to swim. But that only made me want to try it more."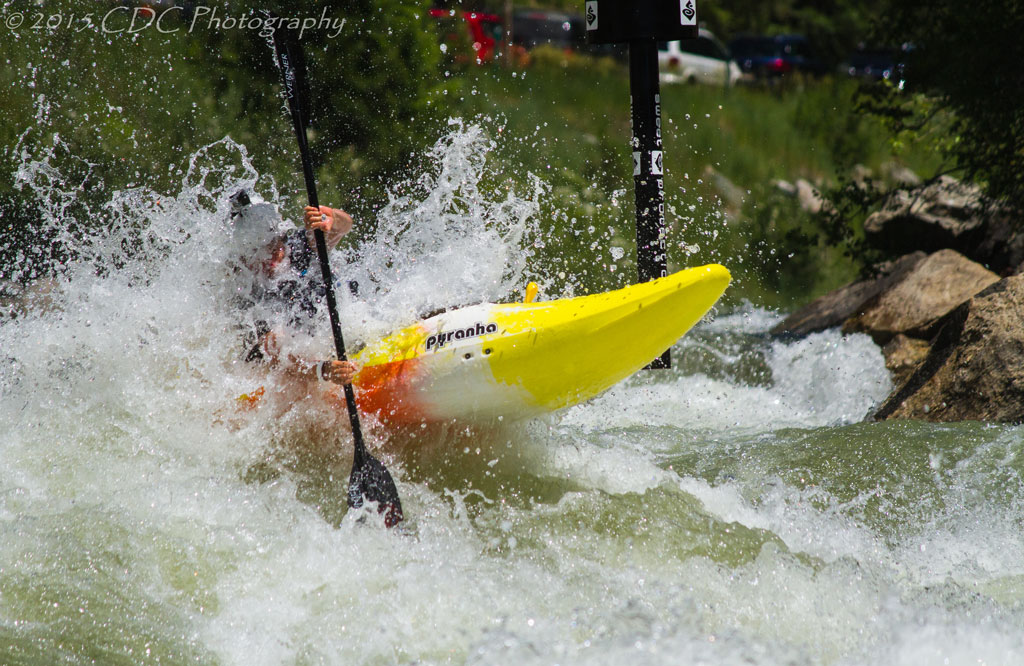 Like a lot of European countries, France has a very strong club system for getting young people involved in sports. Once you join, the club provides the gear, a coach and transportation to and from your home, so families aren't strapped with the expense.
"I went to every single swimming lesson," says Nouria with a sly grin. "And before the summer was over, I came back with a certificate. Then my parents had to live up to their promise and take me to the kayak club."
Her first real river experience was on the Isère, which flows down out of the famous ski racing resort of Val d'Isère.
"We had to climb down into this box canyon," she says. "And it was such a big adventure for me that it's always stayed in my mind. Now, whenever I travel I always have that same feeling. It's a combination of the adventure of travel and the adrenaline of the whitewater, and also pushing yourself on difficult rapids to see what your limits are."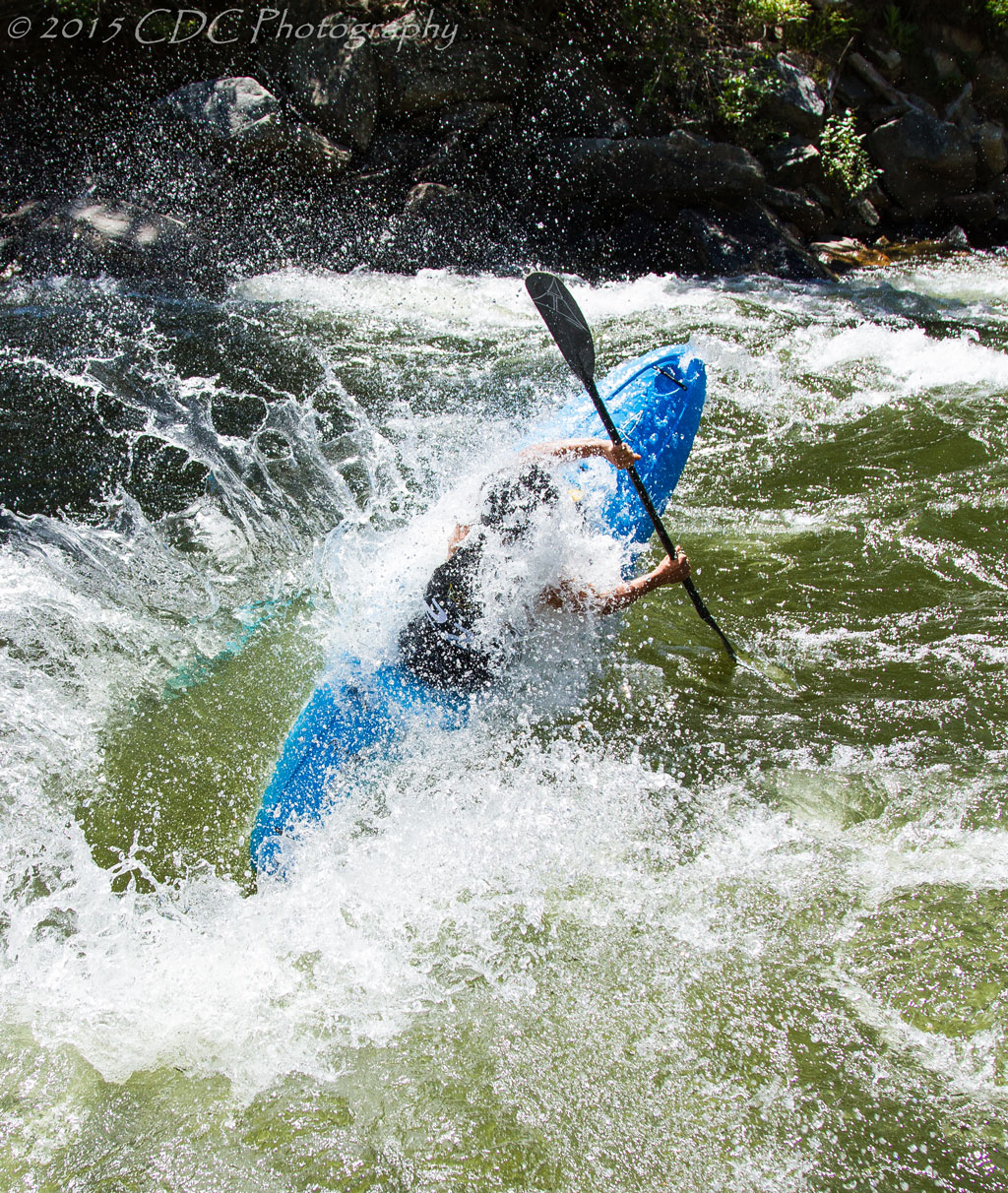 Chris Celentano loves to push his limits, too. He's been a mountain climber most of his life and raced dirt bikes for several years. He picked up kayaking when he was 16, shortly after his family moved to Coeur d'Alene, and quickly became a whitewater fanatic.
"Water's just something I love. I'm fascinated by it," says Chris. "Ever since I was around two weeks old I was either on the water or in the mountains pretty much every weekend. I like sports that challenge me mentally and physically but that also refine my thinking and my technique. I love kayaking because it can be as relaxing or as adrenaline-filled as you want."
After a year as a guide for both sea and river kayakers he moved into teaching, which he's been doing for the past eight years. That's where he was bitten by the photography bug. He's come to the North Fork Championship with his camera gear instead of a kayak to shoot the best paddlers in the world. But when it comes to running Jacob's Ladder himself, Chris is adamant.
"I am definitely not at that level," he says with a nervous chuckle. "I've run water like that one time, and it was humbling to say the least. I love competing, and given the opportunity, I'll do more of it. But anyone who takes on this rapid has to be a phenomenal paddler."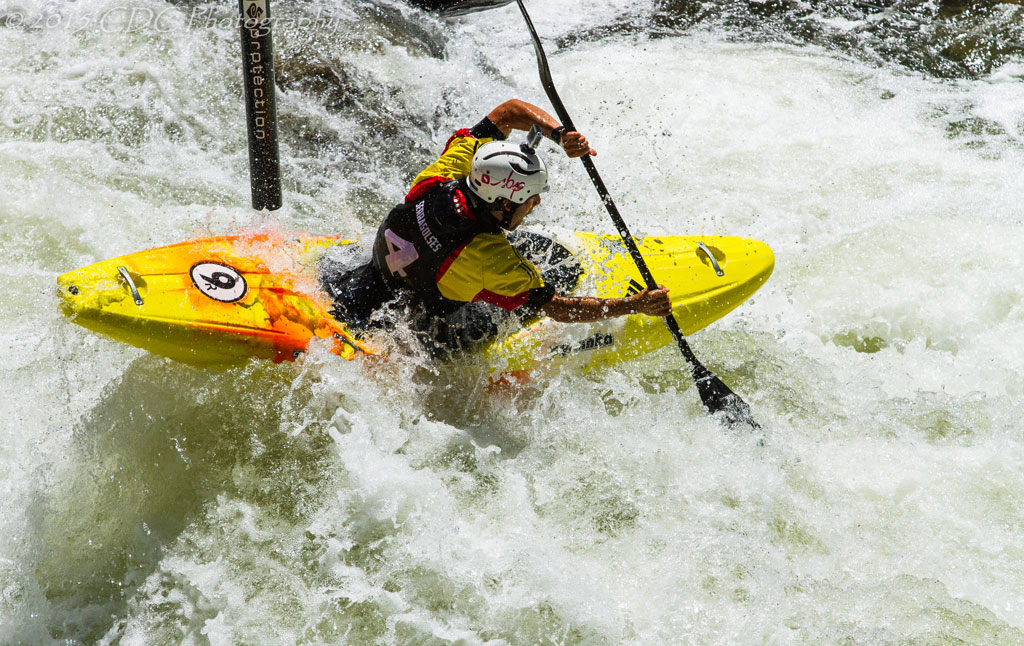 Running Jacob's Ladder is definitely not for the faint of heart or the inexperienced. Each applicant is required to take a safety course, in which it is repeatedly emphasized that, regardless of experience, if a boater is not ready to tackle it, for whatever reason, they should stay on shore.
For Chris, though, the action was definitely on the river. Boat after boat swept past his lens; paddlers working frantically to hold a line as the roaring cross currents tried to upend them, smash them into the rocks or toss them out of the river. It was the rare athlete who made it from start to finish without a major catastrophe.
"This is the most dangerous rapid on the North Fork," explains Dane. "It's very continuous. A lot of things could go wrong and you could wind up out of your boat or injured. Once you're on the course, you're moving very fast. There are a lot of rocks, and there aren't many places to get out of the river. If you miss your line or end up in a bad place, there are going to be consequences. It's very, very sketchy."
One of those who did conquer the river that day was Nouria Newman. She powered her way down the rapid on her first run like she was shot out of a cannon, finding that fine line between beauty and chaos, and riding it to one of the top times of the day.
"This rapid is so hard and having gates takes it to a whole different level," says Nouria. "I don't even think we're racing against each other because in the end it's about you and the river. And you have to go with the river. If you try to go against the river you're going to lose because she is always stronger."
But the river took charge on her second run, almost as if to punish her for her previous perfection. The raging rapid jarred her out of control, stealing precious seconds from her combined time. Still, her eighth place finish was very respectable, especially as the only woman among 35 competitors.
"There are a ton of features in this rapid," says Dane. "Holes behind rocks that will freeze you in one spot, waves that crash up and smack you with a chest-full of water and slow you down. You have to find a way to keep your boat on top of the water as much as possible."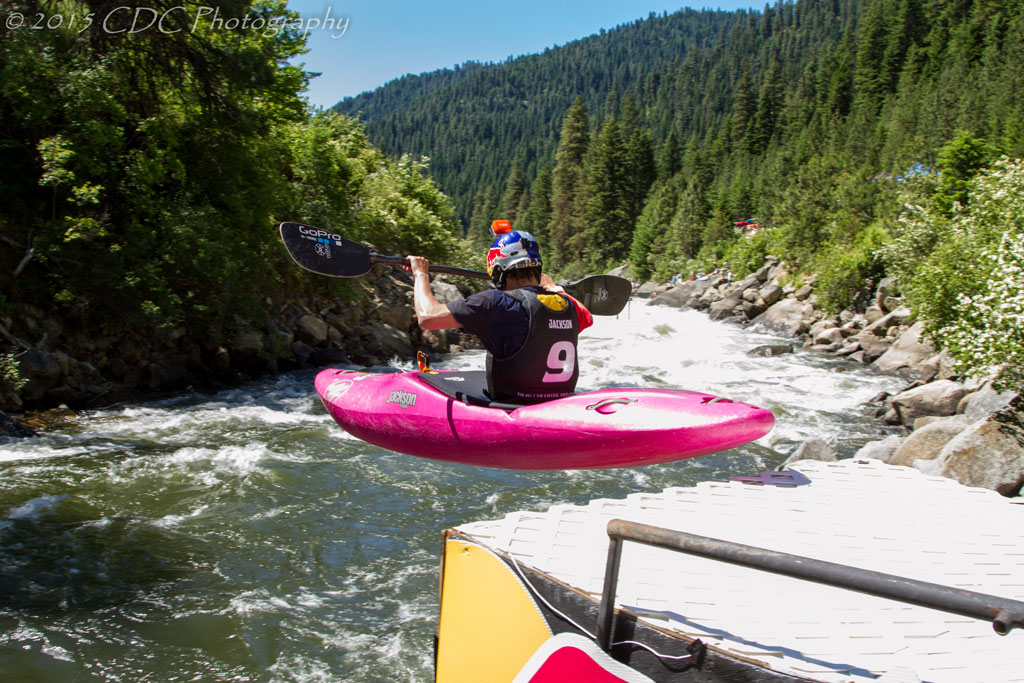 Three years of experience in this event paid off for Dane. It was almost as if he was hovering over the river as he bounced and twisted his way down the Ladder to take the number two spot, less than a second behind the winner, Spain's Gerd Serrasolses.
But the sport of kayaking is about more than race results. It's a lifestyle. With the competition behind them, Dane and his friends are back on the road looking for the next challenge. There will be other competitions as the summer slides slowly by, but that's a thought for tomorrow or maybe next week. Today, there's just the next river and more rapids to run.
Nouria is headed back to France to try and regain her spot on the French World Cup team and qualify for the 2016 Olympics, but she's equally excited about the rivers she'll run on the way home, just for fun.
(Dane Jackson returned to the 2016 NFC to paddle away with three first place titles. Nouria Newman did not compete in the 2016 Olympics, but returned to take on the NFC, placing 17th in the Elite Division.)