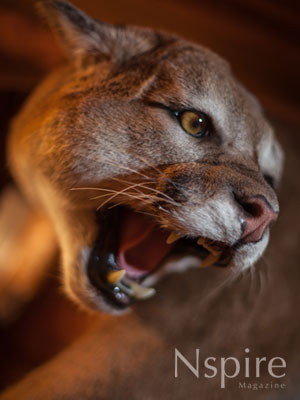 Karie Anderson welcomes us inside, and we are immediately greeted by a black bear, a buffalo, a mountain lion, and a raccoon, all beautifully presented and preserved by a talented taxidermist who clearly knows his work. We're here for a photo shoot and interview. Benjamin Powell, excited by the prospects, gets right to work. Karie keeps us company while Jeff get's cleaned up. He's quit work early today to meet with us.
Ask Jeff Anderson how he's doing and he'll smile and say, "Oh, not bad for an old guy." Of course, I've got a Grandmother who is nearly 103 (perhaps a story for another time). Jeff and Karie only are in their 70's, so that doesn't exactly qualify as old to me. However, I'm still impressed at their level of health and activity for a couple their age. If you couldn't tell by our welcoming party, Jeff and Karie Anderson are hunters.
Jeff and Karie have been hunting together for the past 10 years. Jeff started when he was 12. "Had to be 12 to get a hunting license," he jokes. He'd certainly have started sooner if it were allowed. When asked what it is he likes about hunting, he replies, "I guess, everything. You don't have people around like you do in the city. You get to eat what you shoot. I get to play with guns while I'm doing it, and it's pretty challenging. But," he smiles again, "the fun ends when you pull the trigger." It seems it's all work after that.
Karie, slightly less eager to hunt, started when she met Jeff, before they married. Now, she explains, "My husband hunts. He likes to have me with him. So I go." Her favorite part, she says, "is coming home." Clearly, a woman who hunts with her man, loves her man. Karie doesn't just go to watch, though. Perched above their television in the living room, looms a beautifully posed mountain lion that she tagged on a hunting trip in the mountains of Utah just this year. It turned out to be quite the demanding trip, too, as they had to strap on the snow shoes to make the hike. Perhaps, it's not something she'd care to do again, though she was up to the challenge.
Jeff and Karie haven't always kept everything they shoot. Not long ago (July 2013), they embarked on a hunting trip to Africa. Jeff pulls out a binder full of pictures from the safari. The variety of wildlife is astounding and beautiful. And their appreciation for that beauty is very clear as they describe their experience. Although they were there to hunt, they were also there to serve, supplying the native community with over 8,000 pounds of fresh meat. Jeff made a second trip in 2014.
So, what do the Anderson's do to stay fit enough to go gallivanting around in the mountains of Idaho and the savannas of Africa? "I work," Jeff says. "I thought I was going to retire," he continues, explaining this was his plan when he moved to North Idaho in 1992. He laughs, "Now, I'm just tired." He's still putting in some hours on odd-job construction projects, though he gets to pick and choose these days. Karie explains that she works out 5 days a week. But that's not all. Jeff and Karie are dedicated, avid dancers. Karie started dancing in San Diego in 1978. Jeff began in 1960 when his parents invited him to come with them. He thought he would hate it, but he's been dancing ever since. These days, Jeff and Karie dance together at least twice a week for about 2 hours per night. They enjoy both Round Dancing, and Square Dancing. They even stopped in Oklahoma City for a three day dance expo on their way to Africa.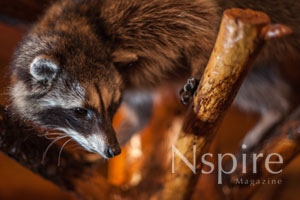 "I like the clothes," Karie says, regarding the dance expo. "Jeff always comes home with something when he hunts. I always come home with something too."
"You can't eat clothes," Jeff teases.
"But I can look mighty good in them," Karie replies. Jeff's grins and shoots her a sly wink. They both laugh. He won't argue with that fact.
Karie says the benefits of dancing are that "it helps with posture, and thinking, and working together." Jeff doesn't say so, but I imagine if I asked him, he'd say the benefit of being a good dancer is that you can get the pretty girls to go hunting with you.
By: Toby Reynolds/Photography by: Benjamin Powell