A Pastor's Dedication to a Community in Need
It's seldom one seeks out life's messy moments. On the contrary, these are the kind of moments most of us try desperately to avoid; the kind where drugs have strangled a once clean lifestyle and stripped a bank account of every cent; the kind where conflict causes family dissension and plants a stake between loved ones; the kind where poor decision-making has landed someone behind the steel bars of legal confinement with a long-shot at seeing themselves on the other side.
These moments — these painstaking, gut-wrenching, heart-stopping moments — are the ones Pastor Tim Remington anxiously seeks out, incessantly hungry to find one more individual looking for a second chance. This was his mission when he planted The Altar Church in Coeur d'Alene, Idaho on October 10, 1993. And, more than 20 years later, despite a multitude of challenges, to include being the target of a premeditated shooting, this is the mission Pastor Tim still fights for.
You'll find Pastor Tim at his church on Sundays and perhaps many other days of the week. But it's not the only place where he helps the community. He's served on over 17 boards in the area and currently sits on the Christian Community Coalition, Set Apart Ministries and, the Good Samaritan Rehabilitation Program. And he still finds the time to visit courthouses and jails at least three days a week looking for those he can provide absolution—a testament to his dedication to the cause.
"When I came to Coeur d'Alene," says Pastor Tim. "I saw a need to help the individuals in our community who were addicted, struggling, and looking for hope, and didn't see that it was being addressed. The Altar Church and Good Samaritan Rehabilitation Program [two separate, but mutually beneficial, non-profits]are direct answers to that need, and it's been beautiful to see the lives that have been transformed through them."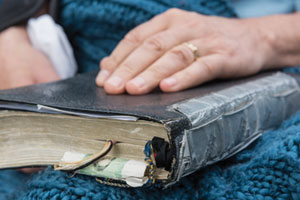 M.J. Vann knows this better than most. As a member of The Altar Church for the past five years, she's had the opportunity to see Pastor Tim preach every Sunday with passion and conviction at the prospect of delivering a message that will resonate in the hearts of those battling life's greatest woes. Vann, a cognitive self-change counselor in the Good Samaritan Rehabilitation Program, has had the privilege of seeing that resonation take place; these messy lives dramatically turned around.
"I help evaluate individuals who are looking to enter the Good Samaritan Rehabilitation Program," she explains. "as well as assist in the jail ministry, where we seek those who are facing jail and look for a way to enroll them in the program. To date, nearly 1,700 individuals have graduated from the Good Samaritan Rehabilitation Program and been given that second chance, thanks to Pastor Tim's vision."
Pastor Tim reminisces over the many examples of individuals who, once engulfed in drugs and despair, have graduated from the program and gone on to lead productive, healthy lives.
"To date," he says. "The Good Samaritan Rehabilitation Program staff is made up of program graduates—nearly 30 of them. In the administration of The Alter Church is a beautiful, glorious woman who was found years ago in her home at 90lbs. entangled in drugs. I asked that she come join the rehab program; she willingly agreed, and her life was changed."
He also tells of a 17-year heroin addict. "After nearly eight months of rehab and life-changing resolve, she helped us start the Good Samaritan Rehabilitation Program. She's a truly amazing woman."
This program, methodically planned out for each individual, with intensive, incremental steps to recovery, is facilitated by the support of those close to home. It's for those in the community, by the community. And most of the graduates return to the community to give back once they're done.
"Before the program was built, we were sending people to one in San Diego for nearly $4,000 per month," says Pastor Tim. "Now, we're able to enroll individuals at $2,500 for two to four months, and keep them close to home."
On March 6th, Pastor Tim was shot outside of his church. It shocked the Coeur d'Alene community. For many it was as if a part of their lifeline had been removed. As a man who leads a nationally-renowned rehabilitation program for recovering addicts, sits on many of the community coalition boards, aids the local police department, saves the county insurmountable dollars in jail inmate costs, and never neglects an opportunity to lend a hand to someone in need, it's clear Pastor Tim's presence is invaluable. He brings with him an array of resources, a gamut of knowledge and sings a song of second chances.
A .45 caliber handgun, nearly a dozen shots fi red and eight wounds later, Pastor Tim Remington continues to fight for a community in need, even if, for a time, it is from a hospital bed. It would seem however, and it's no surprise, that this man, so intent on providing second chances, has been given one of his own.
By: Chelsea Newman/Photography by: Joel Riner